Volume 13 Issue 4, April 2016
What's New in April?
This last month was a whirlwind of activity with trying to get spring cleaning done and doing a lot of freelance writing. That left little time for clay play, but I am finishing projects up and getting ready to play! At this very moment, there is a smallish pile of clay slices that will go onto some base beads later on this afternoon. I am trying out some new techniques that I just learned and have written out a list of things to work on, so it should be a very productive day!
I have been working on dangles since that is the theme of the last Jewelry Bench article I wrote, so there are a lot of loose dangles wandering around my work space and sitting on the edge of my desk. I managed to get a couple things together for the magazine and for my website. Mother's Day is coming up fast, so these pretty earrings are a good gift for mom. They feature my pink rose beads and lots and lots of sparkling Swarovski crystals.
More Beads:
Working on a large selection of beads from veneers and other styles. I am focusing on focal beads or offering individual beads from sets.
Prints and Posters:
I have been working on compiling art and photos to have printed as posters, cards and other prints. They will soon be available on my website.
Potholder Magnets:
New designs and an expansion on some of my tried and true best sellers are in the works.
You will find all of my beads, canes and finished jewelry on my website.
www.bluemorningexpressions.com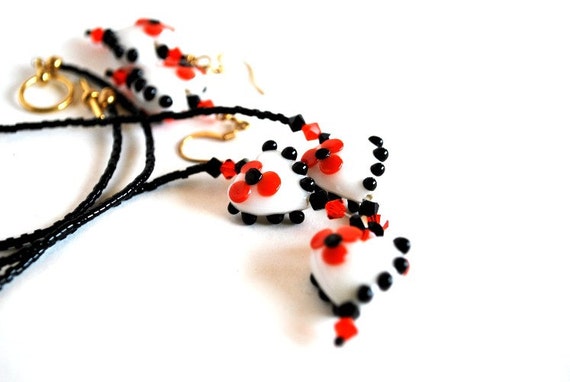 Things to Look Forward To:
Watches:
There are new watches in my shop. I went a little Southwestern with beads and charms. There is only one left, so more are coming!
Thimbles:
I am working on getting some new thimbles created. I am completely sold out.
Hotrod magnets:
I am adding hotrod magnets to my shops, and since I only have one finished, I will have to show them off next month.