Orange
Bright, cheerful and powerful. That's what you see when you look at something orange. It is a brilliant hot color that makes everything around it glow with warmth. It moves and flows like hot lava. It is spontaneous and playful. When you want something that stands out, then select something orange.
Clinohumite
This stone is a cousin to the peridot and can only be found in the countries of Serbia and Tajikistan. It is either transparent or translucent and yellow orange in color.
Orange Garnet
The garnet is more than a red stone; it can be found in some lovely oranges. It's proper name is the Malaya garnet. The more traditional red garnet is the birthstone of January and the sign of Aquarius.
Orange Opal
This gemstone is commonly known as the fire opal or jelly opal if the coloring is not so bright. October babies and Libra babies consider the opal their birthstone. The orange opal is not a common gemstone, so it is rather pricey.
Citrine
The pretty citrine is extremely rare. It is a variety of quartz and is really a yellow or brown color. There are a lot of so called citrine stones on the marketplace that are really heat treated quartz rather than true citrine. November's child adores citrine.
Other beautiful oranges that we see in today's jewelry include amber, carnelian, peach moonstone sardonyx and agates. These oranges make the pieces warm and exciting.
Here are some brilliant and energetic oranges that are ready for you to enjoy. Buy them all today.
Halloween Earrings Orange Black, Lampwork, Onyx
PrettyGonzo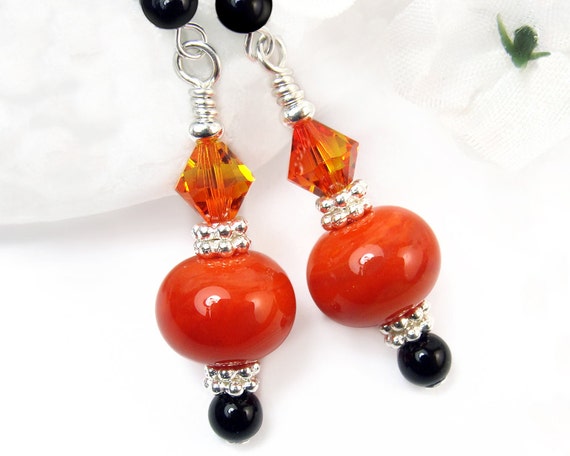 Orange and Yellow Sunburst Table Topper Crochet Art Décor
RSSDesignsinFiber
Swarovski Crystal Bracelet
TreasuresofJewels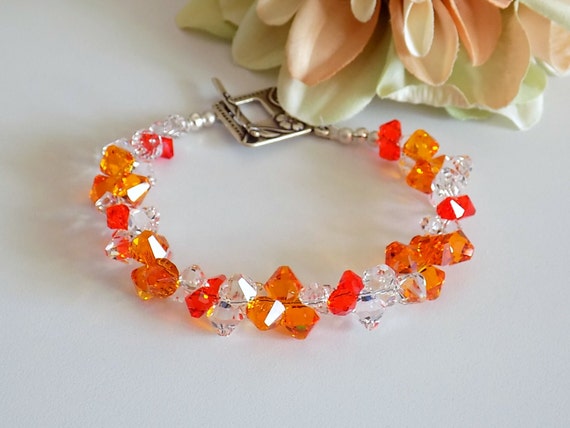 Golden Quartz Pendant with Bamboo Jasper Desert Gold Nugget Necklace
KatsAllThat
Orange, Coral, Yellow and Gold Pendant Necklace
ResetarGlassArt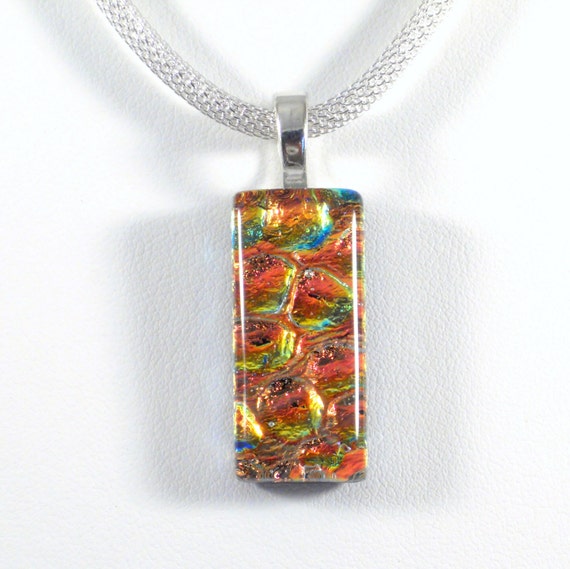 Ginger Orange Wooden Hoop Earrings Large 2 Inch Vintage Pierced
ButterflyintheAttic
Dinosaur Party Favor Tags for Birthday and Baby Shower
AdorebyNat
Hot Orange Tango Handmade Dichroic Fused Glass Dangle Earrings
Umeboshi
Halloween Orange with Black Polka Dots and Fuzzy Trim Scrunchie Neck Ruffle
SewAmazin
Carnelian Nugget Chip Gemstone Beads
BeadSouk
Bracelet and Earring Set
Jazzitupwithdesignsbynancy
Beaded Bracelet
Bluemorningexpressions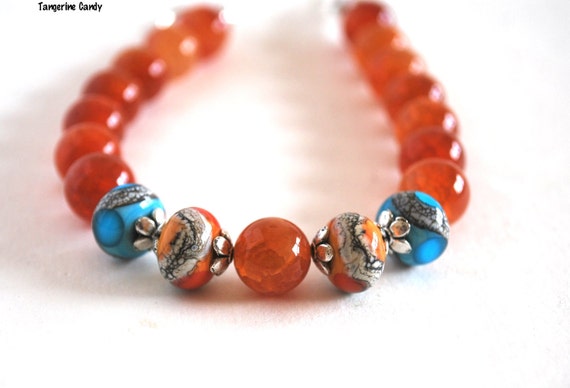 Opaque Apricot Orange Streaky Handmade Lampwork Glass Beads
CovergirlBeads
Orange Lampwork Earrings
BlondePeachJewelry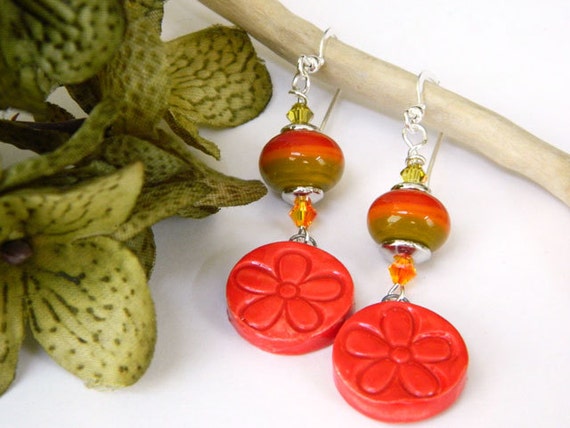 Orange Coral Handmade Necklace, Elegant Artisan Gemstone Boho Jewelry
ShadowDogDesigns
Orange Fire Agate Statement Necklace Large Gemstones Gold Accents
TheSingingBeader
Orange you glad you stopped by and got re-energized!?
Don't see what you are looking for?

You will find more gift ideas from these designers and artists here:

Week 1
Week 2
Week 3
Week 4
Week 5
Red is for Passion
Green with Envy
Think Pink
Who has Time for the Blues?

Feel free to reach out and ask the artists and designers if they could make something just for you.

Enjoy
Julie and Blu
Technorati Tags: bluemorningexpressions,handmade gifts,handmade jewelry,mothers day gifts