It's funny that while writing this up, I finally decided to find out what this crazy weed was that is growing in my yard under the bird feeder. It looks like a corn stalk, and I have been letting it grow because I wanted to see what it would do, (that sounds like the opening line to a very, very bad B-movie.) It turns out that the top started to develop small seeds.
It took me only a couple quick image searches to discover that I had sorghum growing in the yard. Being from the Midwest, I recognized the term sorghum as a regular crop grown in Illinois.
It is a cereal crop, which is why I had it in my birdseed, but it can also be used to create sweet sorghum. Sweet sorghum is not the same as molasses, but it can be used the same as any of the varieties of molasses, which is derived from cane sugar.
Molasses is what brings us here today. Sweet, sticky molasses.
Besides being sweet, molasses has a lot of health benefits, too.
It is good for your energy levels. It adds a lot of B to your diet. It is said to have antioxidant properties, and is a great source of iron. Click here to read some more of these wonderful molasses properties.
All of these natural benefits  probably are not the reasons that Connie of The Singing Beader says that her husband, Mike, calls the following cookies his favorite. I bet it is because they are chewy and tasty!
We should all give these a try this year. I know everyone has some blackstrap molasses in their pantry! I use Grandma's molasses.
SOFT CHEWY MOLASSES COOKIES
Prep time 20 minutes
Servings 3 Dozen
- 1 cup organic sugar
- 3/4 cup butter (softened)
- 1/4 cup molasses
- 1 egg
- 2 1/4 cup unbleached all purpose flour
- 2 tsp baking soda
- 1 tsp cinnamon
- 1/2 tsp salt
- 1/2 tsp ginger
- 1/2 tsp cloves
- 1/4 tsp nutmeg
- Sugar for coating (optional)
1. Preheat oven to 375.
2. In a large mixing bowl, beat sugar, butter and molasses together.
3. Beat in egg until light and fluffy.
4. Mix in flour, baking soda, cinnamon, salt, ginger cloves and nutmeg together until well combined.
5. Cover dough and refrigerate for about an hour.  This makes handling the dough much easier.
6. Roll dough into 1 - 1 1/2 inch balls.
7. Roll each ball in sugar to coat.
8. Place on ungreased cookie sheet, 2 inches apart.
9. Bake for 10 - 12 minutes.
10. Remove from oven and let sit for 1 minute before removing cookies and placing on wire rack to cool.
11. Makes about 3 dozen cookies.
Here are some more sweet delights that are sure to be a hit with your gift giving.
Pink Copper Bronze Heart Earrings, Handmade Valentine Jewelry
Florida Beach Path Scene, Shadow Dancers 11 x 15 watercolor print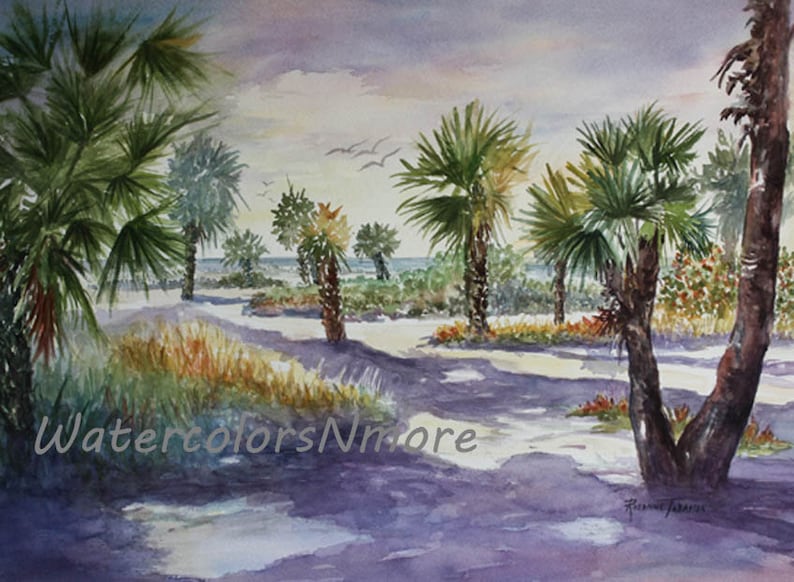 Speckled Yellow Blue Tan Spring Lampwork Bracelet and .925 Earrings
Candy Cane Christmas Ornament Handmade From Walnut Wood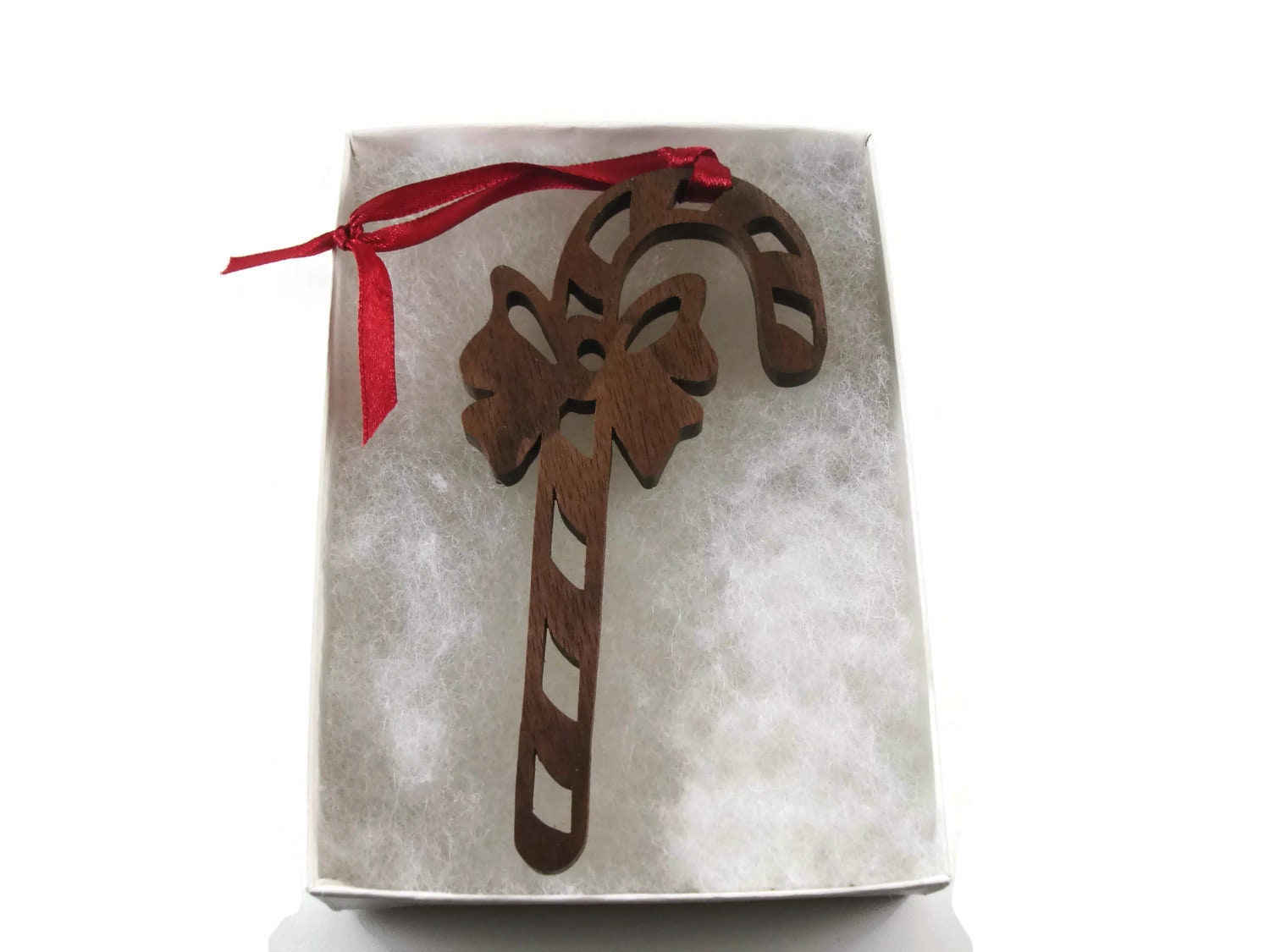 Melting Heart Scarf, Holiday Neckwarmer
Wooden Barrel In Garden Solvang CA Canvas Print
FIBER ART HANDMADE KNIT SCARF WITH ENGLISH BOUCLE RED WOOL
Multicolored Charm Bracelet, Glass Silver Dipped Bead Tips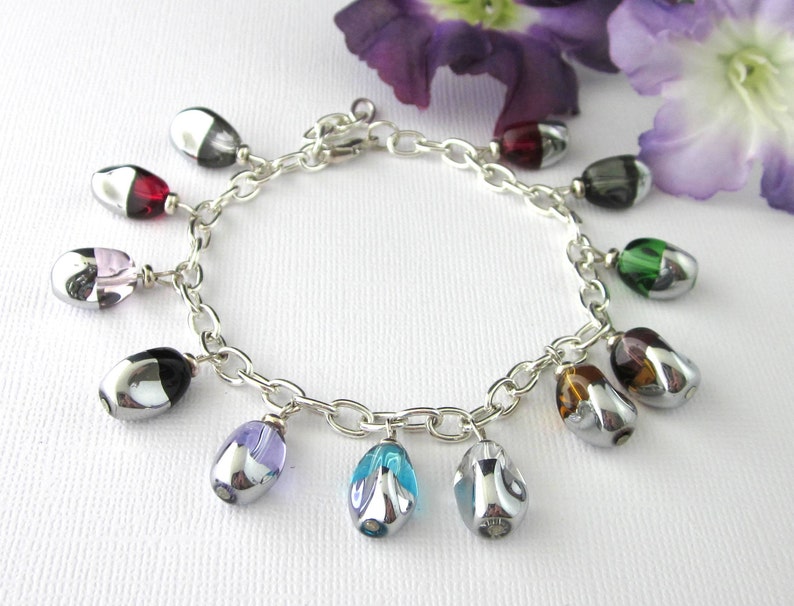 Christmas Chocolate Candy Earrings, Lampwork Petit Fours Jewelry Gift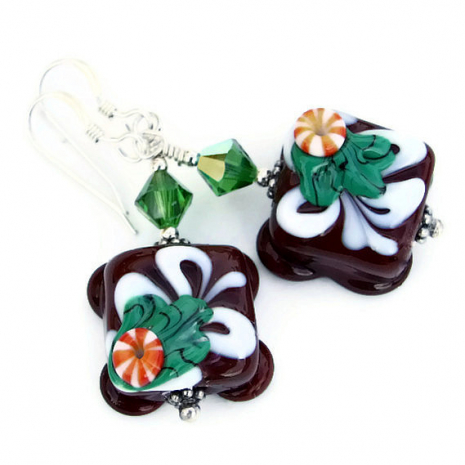 Satin Black Ivory Green Lampwork Teardrop Pendant Necklace
Brown Lampwork Beaded Necklace with Red Stripe Agates, Necklace for Women
In addition to these fantastic gift selections, each of these artists have their own shops filled with more gift ideas, so be sure and stop and shop with each one.
If you see  something you like, buy it now or forever lose it as handmade gifts sell out quickly!
Shop from these additional countdowns and pages:
Countdown to Christmas 2020 Week 1
Countdown to Christmas 2020 Week 2
Countdown to Christmas 2020 Week 3
Don't see the perfect gift? Ask an artist to help you design something.
Shop now!
Julie