When in Rome
The month of July is a tribute to Julius Caesar, and it was his birth month. Great leaderships come from the July month. It brings the hottest heat to the north and the coldest cold to the south, and it is the rainiest month with the most thunderstorms. It is a wild and extreme month. Dog days of summer live in this month. It can be a volatile month. Fireworks are right at home in this month.
The Personality:
She is fun to be with, and she is concerned for other's feelings. She is serious, and she takes a lot of pride in herself and her appearance. She is honest. She is deep and can be hard to read. She holds her feelings close, and she is sentimental. She is very witty. She is pragmatic. She appreciates beautiful things. She is hard working, and she excels easily. She is very tactful. She is friendly and has many friends. She is a caretaker, and she loves the moody moon. She is organized, and she does well in real estate.
She makes a great manager because she is organized. She might be a bit critical. She loves plants and tends to be a vegetarian. She loves to sing, perform or be involved in the arts. She is family oriented and loves her family. She is great in research, science and anything that brings her in contact with nature.
The sign:
Cancer and Leo: The crab and the lion.
The Stone:
The red ruby, like the red star Regulus in the heart of the constellation Leo, belongs to the July child. The brilliant red complements her outgoing personality, and she can wear it when she is on stage. The ruby is associated with dedication, confidence, courage and happiness. The ruby generates energy for the July babe.
The Flower:
The laughter of the Larkspur belongs to the July baby. This pretty purple flower creates relaxed energy that the July child adores. The flower grows high in the mountains and has many little petals that make up each flower on the stem. It is a medicinal plant and is said to be able to keep witches out of the stables in Transylvania. Apparently, it has no effect whatsoever on vampires.
The Color:
Let's assume that red is the color of all July children. It is as powerful as the July girl is.
The Gifts:
Ruby Red Glass Pearl White Leather Bracelet Swirling Pewter Button
Luscious red bead crochet necklace with red lampwork beads
Red, White, and Silver Interchangeable Watchband
Red Baseball Zipper Pouch Wallet
Red Rose Wall Art Decor Handmade 8 x 10 Oak Wood Flower, Frame Optional

Non Pierced Ear Cuff "Roses are Dainty" Cartilage Conch Cuff Silver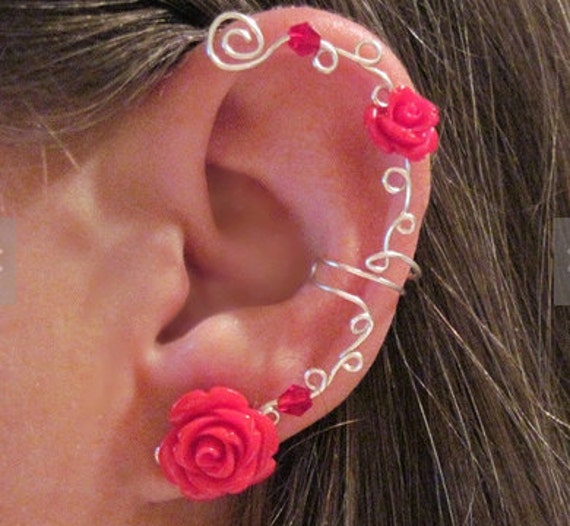 Hand Knit Red Apple Picture Cloth
Handmade Lampwork Glass Heart Beads Red Encased Jewelry Supplies 15mm
Red Toes Dangling Fused Glass Jewelry Earrings Gold Filled Ear Wires
Hand Made Red Reversible Fabric Beverage Coasters, Black Beads Border
Roses "Your Birthday..." Early 1900s Gibson Antique Postcard
Friendship is Sewn with Love Handmade Greeting Card Floral Pattern
OTB Red and White Floral High Definition fabric Purse, Handbag
Red Flower Bracelet w Red Shell Beads Green Glass Pearls Polymer
Hamilton Gold Chandelier and Siam Red Crystal Earrings
Doily - 3D Red Roses on Pink Whirl - Small 3D Flower Fiber Art Decor
Red Rose Heart Pendant
Wristlet Red & Brown Floral Geometric Shapes
Red White Pearl Earrings Swarovski Gold Tone Handmade Beaded Jewelry
Red Heart Mothers Day Handmade Earrings Crystal Butterflies Jewelry
Red and Black Dragonfly Czech Glass Button Necklace
Red Crystal Flower Earrings 14k Gold Filled Lever Backs With Gift Box
Elegant Victorian style Hand knit Harvest Red Ruffle edge Ladies Scarf
Ruby Red Faceted Glass Heart Charm Sterling Earrings
Notable July Babies:
Princess Diana, Pamela Anderson, Lindsay Lohan, Ashley Tisdale, Eva Marie Saint, Gina Lollobrigida, Eva Green, Claire Holt, Michelle Kwan, Sophia Bush, Courtney Love, Sophia Vergara, Jessica Simpson, Lil Kim, Phyllis Smith, Michelle Rodriguez, Jane Lynch, Polly Bergen, Arianna Huffington, Kristen Bell, Julianne Hough, Kim Carnes, Selena Gomez, Linda Carter, Bindi Sue Irwin, Sandra Bullock, Kate Beckinsale, Martina McBride, Lisa Kudrow and J.K. Rowling
The Rest of the Gifts:
Here are the other weeks of gifts that are part of the Countdown to Mother's Day.
week 1
week 2
week 3
week 4
week 5
week 6
week 7
week 8
Stay tuned for week 9 of the
Countdown to Mother's Day 2014
. The countdown opens at noon MST on Friday and ends at midnight MST on Sunday night.
Enjoy
Julie and Blu